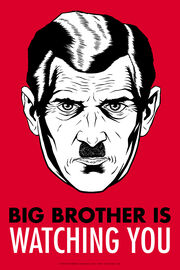 Explanations or commentary on political ideas are commonplace in works of science fiction. Dystopias offer obvious opportunities to explore political ideology but so too do stories about encounters with non-human intelligences: extraterrestrial, machine and trans-human. The political ideas explored in science fiction range from seemingly futuristic avant garde political theories to expressions of "timeless" contemporary prejudices. The escapist appeal of science fiction means that many writers and readers embrace libertarianism [1] or militarism, or both. The libertarian and militarist themes in the novels written by Robert A. Heinlein are barely distinguishable from lecturing. [2] More subtle approaches include explorations of the costs incurred in pursuing contradictory ideals. John Barnes explores the effects of globalization in his Million Open Doors series of novels.
Examples by Concept
Edit
Assassination

Poul Anderson. 1968. "A Man to My Wounding," in his collection The Horn of Time. New York: Signet. No ISBN. pages 27-43.

Anarchism

Ethical Anarchism
Violent Anarchism

Gregory Benford's novel Foundation's Fear, pp. 18-19: see Renegatum

Complicity

Mass Murder: James Morrow's 1985 novel This is the Way the World Ends

Eco-Terrorism - Colin Macpherson. The Tide Turners. Yeppoon, Queensland, AU: Mopoke Publishing, 1999.
Fascism
Fiat Currency

Robert Kroese's near future/semi-post apocalyptic/mystery-science fiction novel The Last Iota

Legal Personality

Roger Macbride Allen. 1992. Modular Man. New York: Bantam. ISBN 0553295594
Robert Kroese's near future/semi-post apocalyptic/mystery-science fiction novel The Last Iota
Gregory Benford's novel Foundation's Fear

Legisaltive Malapportionment

Gregory Benford's novel Foundation's Fear, p. 57

Libertarianism

Margaret Atwood's. 2009. The Year of the Flood (the state re-emerges from a private security firm CorpSeCorps in a society where the state has collapsed)
Robert A. Heinlein. 1966 The Moon is a Harsh Mistress. New York: Tom Doherty. ISBN 0312863551. (also group marriage)

Militarism
Social Credit
Mind Control, Mind Reading and Paranoia
Inception 2010 film; Interpretation of Inception "The Marxist Matrix: How to make sense of all those dreams-within-dreams in Inception." by Jonah Weiner. SLATE. July 21, 2010.
National Security State
Native Reservation
Nepotism
Noble Lie
Pacifism
Plutocracy
Politician Admits UFOS are Real
Proportional Representation
Racism

Arthur C. Clarke. 1953. Childhood's End. New York: Ballantine Books. pp. 90-91.

Revolution
Secrecy

Although encounters between humanity and non-human intelligences serve as the primary theme in the series of novels by Arthur C. Clarke that began with 2001: A Space Odyssey, they are also a commentary on the irrationality and deadly consequences produced by Cold War military secrecy.

Surveillance
Theocracy

In Revolt in 2100, Robert A. Heinlein describes a future conservative Christian theocracy ruling what had been the United States of America.

Tacit Bargaining

Gregory Benford and Larry Niven's novel Bowl of Heaven, p. 293

Totalitarianisim

John Barnes explores the nature of totalitarianism in his Meme Wars novels: Candle and The Sky So Big and Black, which involve the threat of a hegemonic software program One True that takes control of both individual human minds and entire human societies.
Ignacio de Loyola Brandao's And Still the Earth.

Treason
References
Edit
Community content is available under
CC-BY-SA
unless otherwise noted.